TODAY'S HOURS    529 Wellwood Orchards Rd. Springfield, VT 05156
802-263-5200
We accept Visa ,MasterCard, Discover, CASH & local personal checks.
Our country store's TODAY'S HOURS HERE seven (7) days a week, from June through the beginning of November, offering you fresh baked goods, gifts, candy, fudge, honey, syrup and more! Apples are for sale in the store only this year. Sorry, No pick your own THIS YEAR. NEXT YEAR WE WILL HAVE PYO!

You can help! See the commemorative pins available for sale to help with our crop loss.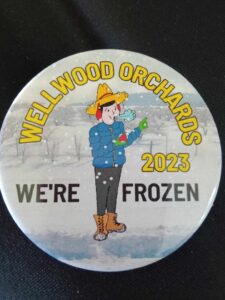 Orchard update:
Many of you are aware that we had a significant weather event on Feb 2/3 and May 17/18th. It was a frost for some and a freeze for others. We were hit with a freeze that destroyed the majority of our tree fruit. We will have some apples to purchase in the store. There will be no Pick Your Own.
We have come up with activities to entertain our customers this fall. Thank you for all your ideas! We have begun the plan but before that happens, we wanted everyone to know what we are up against this year.
The Wellwood Orchards family understands that many people plan their weekends and fall season around a trip to see us so we want you to know in advance that this year things will look different.
Our store will remain open 7 days a week, 9-5. We will still have our famous apple cider donuts and delicious baked goods. Our petting zoo is open during our business hours as well.
We hope you continue to support all the Vermont businesses impacted by the freeze and the recent flooding while we navigate through this year.
well
2023
June –  Strawberries! We are open for strawberries! Cherries ripen and have a short season. STRAWBERRY FESTIVAL


July-We still have some great Strawberries. There time is short. Blueberries  (Raspberries are best picked early in the morning)

Apples, Plums, Peaches,

Baby Goat Yoga

.

August –

Apples, for sale in the store, 1/2 peck bags,

Blueberries ,

Raspberries (ending any day now)Plums,Peaches, Nectarines,

Baby goat yoga resumes in 2024.

September – All new Harvest Festival Saturday, September 2. Apples, No Pick your own.  Grapes, Pears, Plums,  Nectarines, Squash, Pumpkins, – Celebrate Johnny Appleseed's birthday (September 26) with his favorite means of transportation-a quiet walk!  CHECK OUT THIS CALENDAR OF EVENTS!!! SCAVENGER HUNT -every week, SAT 9/23 APPLE PIE CONTEST, SUNDAY 9/24 CHAINSAW CARVER! SOMETHING FOR EVERYONE!


October –  Apples, Plums, Grapes, Squash, Pumpkins, Fairy Habitat Exploration Sunday October1     Car Show October 8!

November 1, 2023- Closed for the season. We close at 5:00 PM on Nov. 1st! Fields are being put to bed.  🙂

December – Closed – Equipment repair, yard and field maintenance.
January – Closed-The apple trees are quietly sleeping (dormant). The trees are being pruned to encourage vigorous growth this coming season.
February – Closed-The apple trees are still dormant. Waiting for spring.
March –

Closed

– The days are getting warmer, some snow may be melting.
April –

Closed

– Green leaf tissue appears on the apple trees and other vegetation.
May –

Closed

-Apple trees are in Full Bloom! Bees are busy pollinating the blossoms. Annual Bird Swap 2024 May (TBD) 10:00 to 2:00! Come at 10:00! Mark your calendar!
Questions? Stories or pictures you would like to share?
Stay tuned for more events at Wellwood Orchards!
802-263-5200
Save
Save
Save
Save
Save
Save
Save
Save
Save
Save
Save
Save
Save
Save
Save
Save
Save
Save
Save
Save
Save
Save