The 2nd STRAWBERRY FESTIVAL
was a success!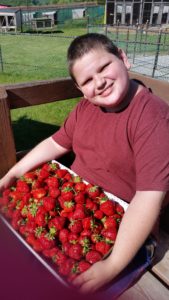 BEST PICKIN' SMILE !
see photo gallery from google here
JUNE 24, 2017  10am – 3pm
see you all next year!!! Expanding and improving along the way!
contact Linda at livefriedmanordie@gmail.com for an invite and application for next years vendor space – 2018
529 Wellwood Orchards Rd. Springfield, VT 05156
Visit us for the Food Vendors, PYO Strawberries, Craft/Wares Vendors, Our County Store, Tractor pulled wagon rides, our petting zoo and free Live Music all day! This is not just a craft fair, it's an adventure as always at Wellwoods!
We are fully booked!
We have expanded our vendor spaces and added an amazing group of artists for your entertainment!
NO ADMISSION FEE!
We are excited to bring to you another fun filled event from Wellwood Orchards that will entertain the young and old alike!
Plan a day of free music by some of the best musicians, shop our country store and the vendors galore. Make it a day and have your lunch in the fresh air of Vermont and sit a spell.
You and your family may enjoy our petting zoo and tractor pulled wagon rides into the fields to PICK YOUR OWN (PYO) Strawberries to round out your adventure! Bring your camera and enjoy the views.
Our Country Store will be open and freshly stocked with baked goods, homemade canned goods, gift items, candies and fresh picked Strawberries for your convenience!
YESSSS!!! CIDER DONUTS will be for sale (and every weekend during Strawberry Season) as well!
NO CARS ALLOWED in the field on this day.
NO DOGS ALLOWED at Wellwood Orchards all year.
This is an outdoor event.
RAIN DATE: June 25
A LIST OF OUR VENDORS–
Outnumbered Food truck
The Jr Crows Grill
Goding Photography
Lucy and the Sheriff- jewelry
Heather Weston Sprague -crochet
@Wooly Bear Soaps/lotions
Split Rock Farm- Grass Fed Beef and more
Gram's Quilts- Becky Wilkinson
Mulberry Tree Store- Dry dip blends
Posh by Pifer
Cindy West- Raycin Farms Food tent
Aroma Catering by Mandy and Co.
Kevlar athletics- SuperTotal Exhibition!
Paula VanGuilder- S'Mores Bar
Danielle- Lemonade and more
Amanda Phinney- Farmgirl Primitives
mythirtyone.com/gronercandace
Molly Hammond Photography
Stephanie Whitcomb- Upcycled/Recycled art
Wellwood Orchard Kids- Strawberry Shortcake
Troop 51500- Girl Scouts Slime Booth and facepainting
Ruth Roberts- unique bags, fabric baskets and other items!
Connie Thompson- goat and raspberry products and more!
Combat Veterans Motorcycle Club- motorcycles, raffle & bakesale!
Michelle Gaskell- Lilla Rose hair accessories!
*Mary Kay- skin, beauty and confidence products!
*Jackson's Dream- toys for everyone and fresh lemonades
Sun Common Solar
*Quilted Treasure by Me- Handmade Unique quilted purses plus!
*Made with Luv Specialties- Handmade beaded scarves & more!
*Three Sisters Collabrative- Herb salves, blams, pottery and more!
*Embroidery and Quilting- Unique items, lace,wedding item, kids..!
*Jonathan Schroths Aged Vt Furnishings- Rustic/Reclaimed decor!
*Kendal Face and Body Painting- By Tammy Kendall!
*Stellafane Farm-Pasture and Whey fed Pork!
*Darlyn Walker-Jeweler-Gemologist: deco hats, vintage purse +!
*Susies Salsa and Chocolate Covered Strawberries!
*S&S Homemade Goodies- whoopie pies, canned goods & more!
*Usborne- Lisa Luce Bingham !
*By the Book Jewelryand Gifts by Karne Vining!
*TLC Crafts- Whisical Yard Art, flower pot people, wood flags plus!
*Clever Cow Designs-Custom t-shirt and apparel design-LIVE!
*Debbie's Sweet Creations- Custom sugar cookies and more!
*All Things Glass- Sculpted and fused stained glass art and more!
Music by:
The Sullivan Davis Hanscom Band- 10a
Ajaye Jardine (all the way from Canada) – 11:30a
The Welterweights- Feat. Kelly Ravin and Lowell Thompson-1:30p
RAIN DATE JUNE 25, SUNDAY 2017
Please see our "NO DOG POLICY" effective Jan 1st 2016
If you want to join the fun as a volunteer please send an email to livefriedmanordie@gmail.com