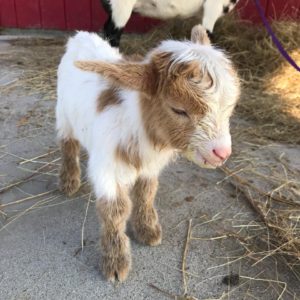 529 Wellwood Orchards Rd, Springfield, VT 05156 Directions
Wellwood Orchards is offering Baby Goat Yoga!
Sundays, Aug 5,12,19 & 26 of 2018 at 10:00 AM
*Right now at 9:00 PM we still have room for 12 more mats!
We have ONE more Baby Goat Yoga class for this year! Sunday, AUGUST 26th is the FINAL CLASS for 2018. Please join us for some healthy fun! I will not be able to answer emails or phone calls after 7:30 am Sunday morning, (the 26th) as I will be in or on my way to Vermont with intermittent service. 🙂 AND.. I'll be preparing a space for you to join us with the Baby Goats! Show up! We'll try to squeeze you in! Let's meet on the mat!!! with BABY GOATS!!!! YAY
We ask that Baby Goat Yoga participants park on the GRASS parking area across the road from the store. This will give you each more space between your vehicles! ♥
If you would like to join us, it will be the 'first come first serve' system beyond the pre registered people. I will not be able to answer emails or phone calls as I will be in Vermont with intermittent service. 🙂 Show up! We'll try to squeeze you in! Let's meet on the mat!!! with BABY GOATS!!!! YAY
Contact Aggie @ 603-847-3330 with questions or email yogiaggie4u@gmail.com . PLEASE do not call the orchard. I will reply to your message in the evening or your email sending waiver/release and payment details.
Please sign up to secure your spot!!!!  We have space for 42 people! We welcome you to join as stand by if space is available. Register for one class or all of them! Payment is nonrefundable*
Class details:
This 'gentle, restorative' baby goat yoga class will be adapted for all. All levels of ability and experience will be honored. This practice will encourage improved breathing, balance and alignment, while increasing strength and flexibility with deep relaxation; while most importantly bringing your youthful open heart to the mat! The presence of beings so new to this world gives us all an opportunity to celebrate the pure innocence and wonder of our own journey. Enter an environment that embraces releasing egos. Every participant is encouraged to make each practice their own by honoring your body and expanding your practice, breathing, opening your heart and experiencing sensation based on your body at the moment. Be in the now, listening to your body, and enjoy the company of baby goats!
Life on the farm is busy. At the same time it gives each soul an opportunity to embrace and rejoice in your wiser, true self. The self that pauses, that loves the smell of grass crushed beneath your feet, the fur and feathers warmed in the sunshine and air.
The classes are 75 minutes in duration.
The cost is $15.00 per person
Some tips:
Bring your own yoga mat. I do have a limited quantity available to borrow. ( there will be a $5.00 cleaning fee) I have straps and blocks to share. Bring your own if you like.
Wear comfortable clothes that do not constrict your movement. We WANT to move freely!
Looking forward to meeting each of you
Namaste`
Aggie
Agnes Mark RYT 200
*The weather is always different at the orchard and (other than this past week) a little cooler. We will post here if the class is cancelled.