529 Wellwood Orchards Rd. Springfield, VT 05156
We have Macintosh, Honey Crisp, Ginger Gold Cortland, Empire, Mutsu, and both Red and Golden Delicious available for pick your own.  
Honey crisp, Northern Spy and Macoun are in the store only.

$14.50 per 1/2 bushel PYO
$28.00 per bushel PYO
$4.50 per 1/2 peck PYO
PEARS

Bartlett Pears
$1.00 per lb. PYO
$1.50 per lb in the store
Free Wagon rides on the WEEKENDS into the orchard during Apple Season – Labor Day weekend thru Columbus Day!

Nothing beats the experience of picking your own apples on a clear crisp fall day. There are plenty of branches full of apples for all ages and abilities. This is an experience that is sure to be a family tradition. Don't miss out on the fun! And don't forget your camera! The fun is here waiting…just for you!
It is usually a little cooler here at the orchard, so grab an extra shirt, hoodie or sweater! Be sure to apply sunscreen and wear a hat. Babies need protection from the sun too! 🙂
Varieties we grow:
McIntosh, Honey Crisp, Red Astercan, Vista Bella, Paula Red, Strawberry Apple, Ginger Gold, Gravenstein, Macoun, Northern Spy, Cortland, Golden Delicious, Wealthy, Empire, Baldwin, Wolf River, Jona Gold, Pound Sweet, Spencer, Jersey Sweet, Twenty Ounce, Red Delicious, Spartan and Pumpkin Apples and more!
ORCHARD ETIQUETTE  (you will also find this information on the IN-Cider News Page!)
While you are here visiting as our GUEST please remember that our fruit trees and plantings are a long term investment for us. We put thousands of dollars and man hours into our crops. So while visiting please respect our farm the same way you would want visitors to respect your garden.
Keep children with you at all times. You are responsible for their safety.
Petting Zoo: do not chase the animals. Pet them, feed them and enjoy them. They are all very friendly. Please note that they need a rest at the end of the day so refrain from visiting after hours.
Absolutely No vehicles in the orchard during apple season. If you need special permission please ask.
When picking apples gently lift and twist the apple. This prevents damage to the tree and prevents other fruit from falling to the ground.
Be careful not to damage the trees. Do not climb on the trees. This causes damage.
Sampling of our fruit while in the Orchard is an expected part of the PYO (pick your own) experience, within reason. Please do not waste fruit.
Please do not steal from us. Hiding fruit or merchandise with the intention of not paying for it, is stealing! Plain and simple. We spend a lot of time and money to allow you this experience, often just to break even. This is our livelihood.
PYO Apples must be in a bag purchased from Wellwood's on the day of your visit. NO other bags are allowed to collect apples, including backpacks.
Please report any theft you see immediately! Help us to continue to provide a safe environment for your family. Stealing is a crime and Police will be notified.
Watch for moving cars and farm equipment.
2016- Dogs: Dogs are NOT allowed AS OF JANUARY 1, 2016.
Please do not litter! We have trash receptacles in many areas.
Thank You! ~ from the Wellwood Orchards Family

HOURS

7 Days a week during apple season
802-263-5200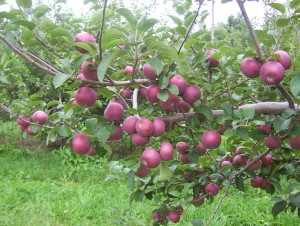 Send your favorite stories or pictures of yourself with the VT Apple Lady!
Save
Save
Save
Save
Save
Save
Save
Save
Save
Save
Save
Save
Save
Save
Save
Save
Save
Save
Save